The
app for apprentices
in your company
Get your newcomers excited about their chosen apprenticeship profession and give them a comprehensive insight into the entire company via your apprentice app.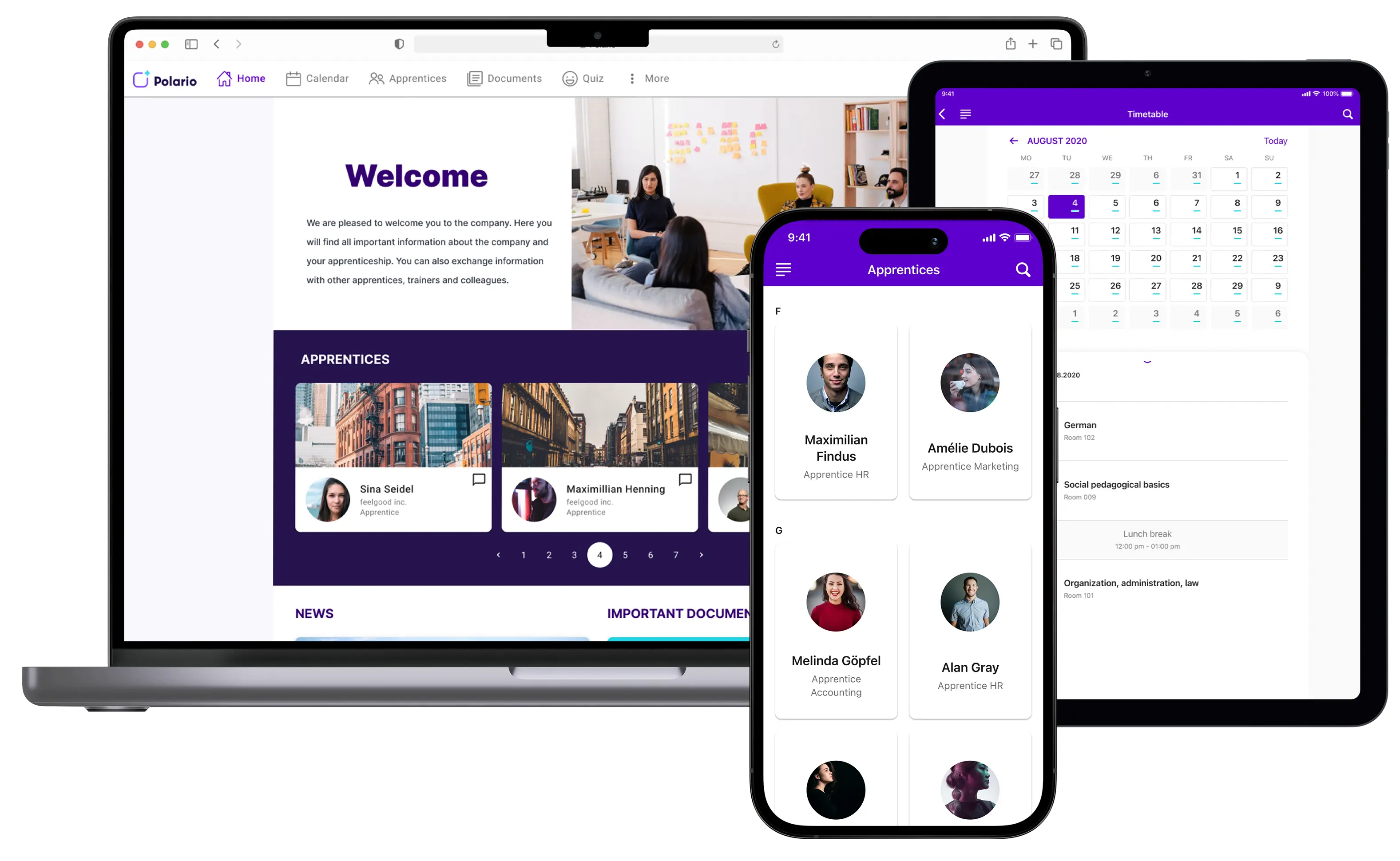 The diversity of a apprentice app with Polario
Support your apprentices with informative and didactic quizzes. You can easily create these and align them depending on the focus of the apprenticeship. Your apprentices can thus test their knowledge and prepare for their exams, for example.
Inform your apprentices in the apprentice app, for example,. about training dates, events and the timetable. Here you can create a calendar for the timetable, as well as a calendar for corporate events.
With the help of customizable pages, you can inform your apprentices about different apprenticeship focuses and the company.
Get valuable feedback from your apprentices. This helps you to continuously improve the apprenticeship in terms of content and at the process level. It also shows your apprentices that they are valued and that their opinion is important.
Your apprentices can access and download important documents such as the apprenticeship contract, report portfolio templates and training videos at any time and from anywhere.
Directories are the best way to give your apprentices an overview of various contacts as well as other apprentices in the company. A person found through the directory can be contacted easily.
The advantages of an apprentice app
Communication between the apprentices
Polario offers you a variety of communication features to promote the exchange of your apprentices. With the integrated chat, apprentices can communicate directly with each other via text and voice messages as well as other media content.
With the channels or social feed feature, you can create a helping each other space for your apprentices through the apprentice app. For example, different social feeds can be created on the individual topics of the apprenticeship, in which apprentices can ask questions. Via our bulletin board feature, a digital search/bidding platform can also be mapped excellently.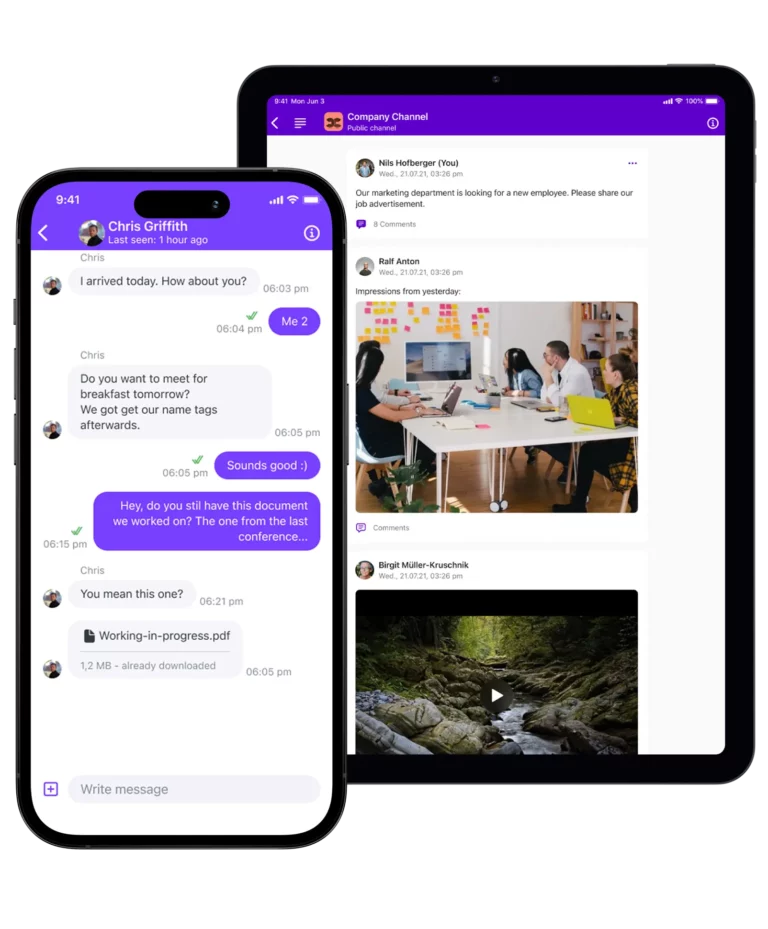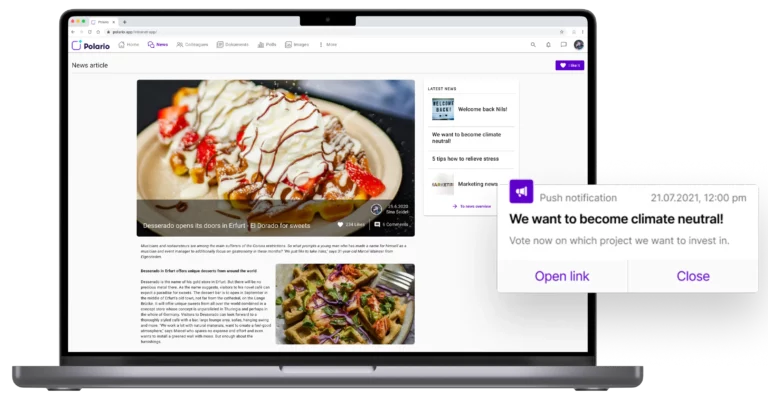 Communication between apprentice and company
In addition to communication features that can be used for direct exchange, Polario also offers you communication features for indirect communication.
If there are important messages for your apprentices, you can send them all easily and quickly via push notifications. These messages will be displayed to your apprentice directly in the notifications in the apprentice app, as well as in the message center of the device.
Just as you inform your employees about company news in your employee app, you can also use the news feature in the apprentice app. For example, you can inform about news concerning the general conditions of the apprenticeship. The significant advantage of Polario's news feature, it offers the possibility to leave likes and comments. Thus, an exchange can arise under a news article.
Can content in the apprentice app be made visible only to certain groups?
Clearly, yes. With Polario's groups feature, you can map from very simple to very complex hierarchy structures to manage access to app content.
What about data protection at Polario?
We give the highest priority to any form of personal information. All connections are encrypted via SSL. Likewise, measures are taken which guarantee a permanent level of protection in accordance with the DSGVO. Our security standards include a CMS with two-factor authentication, SAML login and more.
Learn more about our compliance at Polario!
Your apprentice app can be provided as a web-only app or as a custom app. As a custom app, your app will also be published to the Apple App Store and Google Play Store through your in-house developer account. In addition to the official app stores, you can also upload the apk file of your app to your business app store as well, or you can create your own landing page for the rollout of your apprentice app. You can then store the apk files on this.
Have we piqued your interest?
Stay up-to-date with our newsletter!
You might also be interested in
Follow us on social media to stay informed.
Do you have any questions or suggestions? Contact us!
More Info

About plazz AG
About Mobile Event App
Contact Details