Functionalities of an Intranet App
Exchange with colleagues anytime & anywhere
Add posts to channels or the social feed, as well as like and comment on your colleagues' updates around the world. Share quickly and easily via chats.
Always informed, no matter where you are
Always stay up to date with the newest company news and announcements via the
news feature
. Likewise, company events can be kept track of via the
calendar
.
Simple user management
Easily create, edit, and remove your app users via
account management
in the
CMS
. Create
groups
in the CMS to play out targeted content and information to your employees.
Fully customized and branded app
Customize your intranet app with your company's
design
to raise the brand profile among your employees. Store your icons, colors and logo. The look and feel is consistent across all devices.
Push notifications
With push notifications, you can inform all employees quickly and easily about important news. Push notifications are played out in the web app as well as in the native apps.
User friendly interface
Polario's interface is designed to be intuitive and user-friendly so that your intranet app can be understood by any of your employees and can be used without any training.
Advantages of an intranet app
5 steps to a successful intranet app
Define a strategy and goals that your intranet app should fulfill. Consider your corporate culture in the process.
Assemble a team that will be responsible for the content development of the intranet app as well as act as an additional motivator for employees.
Designate a contact person who will be available to the intranet team and employees to answer questions.
Review CMS features with your long-term technical requirements.
Clarify the requirements for data protection.
Why is the classic intranet no longer up to date?
In the course of advancing digitization and the New Work movement, more and more new forms of working are on the rise. For this reason, the classic intranet continues to serve its purpose. But why is that?
In most companies, the intranet is hardly maintained after it has been set up, and specific responsibilities for the system are rarely defined. Content for a company's employees is also published only irregularly. It is not possible to display information to specific target groups on a classic intranet. As a result, the intranet usually contains only outdated content with no real relevance.
With the classic intranet, communication is one-way. Information is published by the management level or the communication managers. Employees have no opportunity to react to the content, let alone create it themselves.
Another problem with the intranet is that the platform can only be used on a desktop PC. Non-desk employees are thus left out. Since they do not have a fixed desk, they cannot access the information from the intranet.
An intranet app, on the other hand, says goodbye to the problems mentioned above. With an intranet app, you can reach all your employees, no matter where they are. In addition to pure information features, such a platform also offers a variety of interaction and communication features.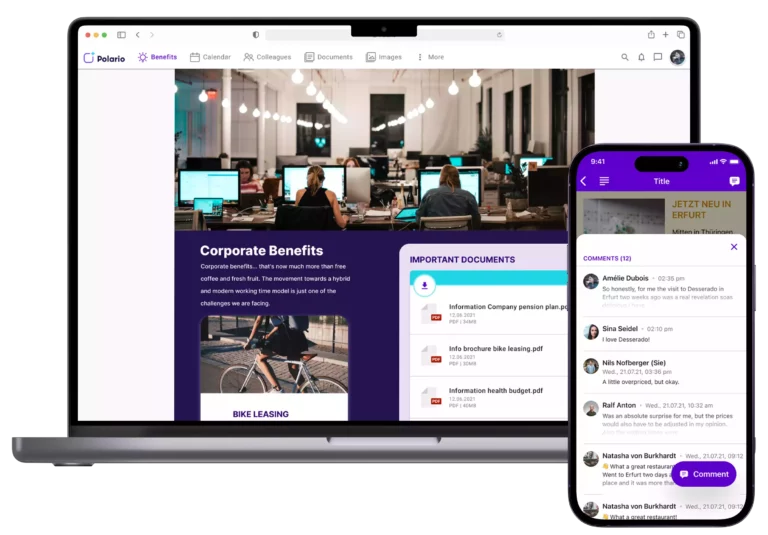 Does an intranet app exclude individual target groups in the company?
Quite clearly, no. Even if intranet apps follow a mobile-first approach and are supposed to reach employees in production, in the warehouse, etc. in an uncomplicated and DSGVO-compliant manner, the platform can be used on a desktop PC without any problems or loss of content.
Will existing content from the old intranet become useless?
Intranet apps offer the possibility to easily integrate the existing intranet and many other tools in addition to the existing IT or HR environment. No complicated relocation of systems and tools and no loss of data and content.
What about data protection at Polario?
Any form of personal information enjoys the highest priority with us. All connections are encrypted via SSL. Likewise, measures are taken which guarantee a permanent level of protection in accordance with the DSGVO. Our security standards include a CMS with two-factor authentication, SAML login and more.
Learn more about our compliance!
Have we piqued your interest?
Stay up-to-date with our newsletter!
You might also be interested in
Follow us on social media to stay informed.
Do you have any questions or suggestions? Feel free to contact us!
More Info

About plazz AG
About Mobile Event App
Contact Details