The app platform for your
conference/convention
Bring your conferences and conventions into the digital space via app and captivate your audience with sophisticated features and engaging content!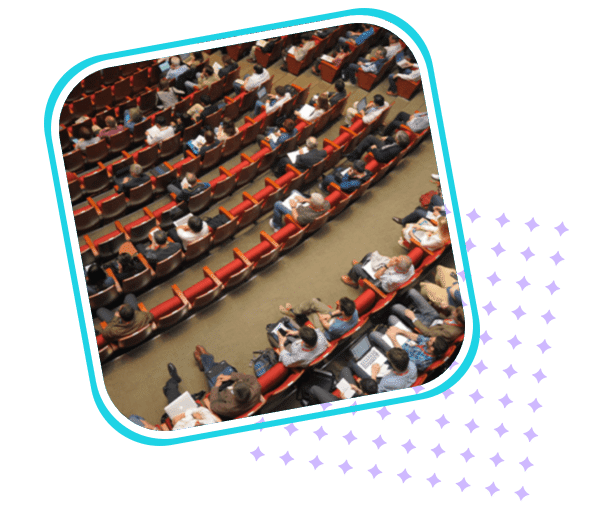 Digitization of your conference/convention
Allow the participants of your events to get an overview of your conference via an app, view the schedule of your congress or easily exchange information with other people at your meeting. Take advantage of the fact that nowadays every person carries a smartphone with them and provide a digital assistant, e.g. for your convention via app!
But you don't have to stop at just assisting with your events. Add digital content and interaction to your events to increase engagement and response.
As an organizer, a conference gives you a better overview, more control, and also strengthens communication and information transfer to your guests. Users of your app benefit from an intuitive and impressive app experience.
The advantages of an app for
Conferences & Conventions
Implementation & Characteristics
What is particularly outstanding about Polario as an event and community platform, is the ease of implementing projects with it. Host a conference made up entirely of on-site participants. Hold a convention as an app completely virtually, for easy access by any person. Or combine the virtual and real world in a hybrid congress, with audience on-site and online, for even more reach!
The app itself can be used via iOS and Android devices and is also accessible as a web app via any common browser. You can also easily integrate different tools via our API for even more individuality of your project.
An example of realization could be an international conference app with thousands of guests (on-site, virtual or hybrid), from different countries. You provide the app for this in different languages so that everyone feels welcome. A lively exchange between the participants takes place via chat. Lectures will be simultaneously live streamed and recorded. For this purpose, partners and sponsors are prominently integrated within your platform, for example on pages, depending on the level of support.
App features for conferences & conventions
The features of our event and community platform are manifold and enable you to use them in countless scenarios. Since "countless" is hard to imagine, we'll introduce you to a few of them. One of the most popular features of a conference app is the exchange with each other inchats and group chats. In the same way, the agenda offers an optimal overview of upcoming content.
Especially organizers appreciate notifications, in an app for conventions, to easily and quickly communicate updates with participants. The Pages feature is also particularly important. And a variety of content can be displayed in different layouts.
In order not to let the interaction in your projects come up short, the feed during livestreams is an ideal place for communicating with each other. Likewise, your audience is directly involved and significantly more involved, e.g. via polls and live voting. In addition, you can easily and quickly get feedback on various topics.
Have we piqued your interest?
Stay up-to-date with our newsletter!
Usages of the app platform
You might also be interested in
Follow us on social media to stay informed.
Do you have any questions or suggestions? Feel free to contact us!
More Info

About plazz AG
About Mobile Event App
Contact Details