The virtual event platform for
your projects
Digitize your events and realize a flexible and impressive virtual event for you and your participants!
An unforgettable experience from anywhere
Rely completely on digital and modern technologies by realizing your events through our virtual event platform. Create a memorable experience, regardless of your attendees' location. By incorporating livestreams and multiple interaction options, people can be informed and interact with each other. Find out how Polario and our team can take your projects to the next level.
Virtual events and their benefits at a glance

Data and metrics are captured in real time and can be analyzed immediately to provide a clear overview.

Inform your attendees about the inclusion of livestreams and video-on-demand content, as well as interactive elements. Through the integration of live streams and numerous interaction options, your guests will be informed and can exchange information with each other.

Virtual events can be implemented much faster, as topics related to location, such as location/catering, are eliminated.

Reduce costs and effort by, for example. no longer having to print and distribute print media.

Due to the wide availability (iOS, Android web app) you increase the reach of your communication enormously, which leads to an improved response rate.

Because of independence from developments on a global/local level, you get a maximum degree of security & flexibility.
How is a virtual event structured?
The dashboard provides the entry point and hub for your virtual event. An easily accessible menu accompanies your participants during the event and provides quick access to the most important content. A few examples include the agenda, virtual maps/show floors, polls, documents and many other topics.
Use the extensive customization options of the virtual event platform and create pages on numerous topics. There, people can find out more about certain facts or you can present appealing media content such as images and videos. Linking to further content, such as surveys and Pages, is of course also possible.
Interactions with virtual media
Easily use live streams, via the virtual event platform, which can be recorded simultaneously, as well as completed streams or pre-produced video on demand (VOD) content to inform users in detail.
Virtual events are much more than a platform for streaming. They allow you to interact with your audience through interactive elements like voting and commenting. Encourage new contacts via the matchmaking feature or create tricky quizzes. Due to its outstanding flexibility, a virtual event can be dynamically designed according to your wishes.
Send updates about the event to everyone or specific groups. You can do this, for example, with push notifications, a virtual bulletin board or news. In the messages you link to app content at the same time and thus enable direct and easy access.
Have we piqued your interest?
Stay up-to-date with our newsletter!
Livestreaming & Video Content
Use live streams or webcasts within your platform. The video signals are provided directly to the app, so no external access is possible. This guarantees the highest level of reliability and security. The integration of live streams is ideal for internal communication, but also for sensitive content such as study results or quarterly reports.
Due to the high flexibility of our virtual event platform, streams can be recorded via different sources, such as screen recording, webcams or your own smartphone. Realize this yourself via a computer program, a browser app or let the recording take place in a professional studio. You have a free hand in the concrete implementation.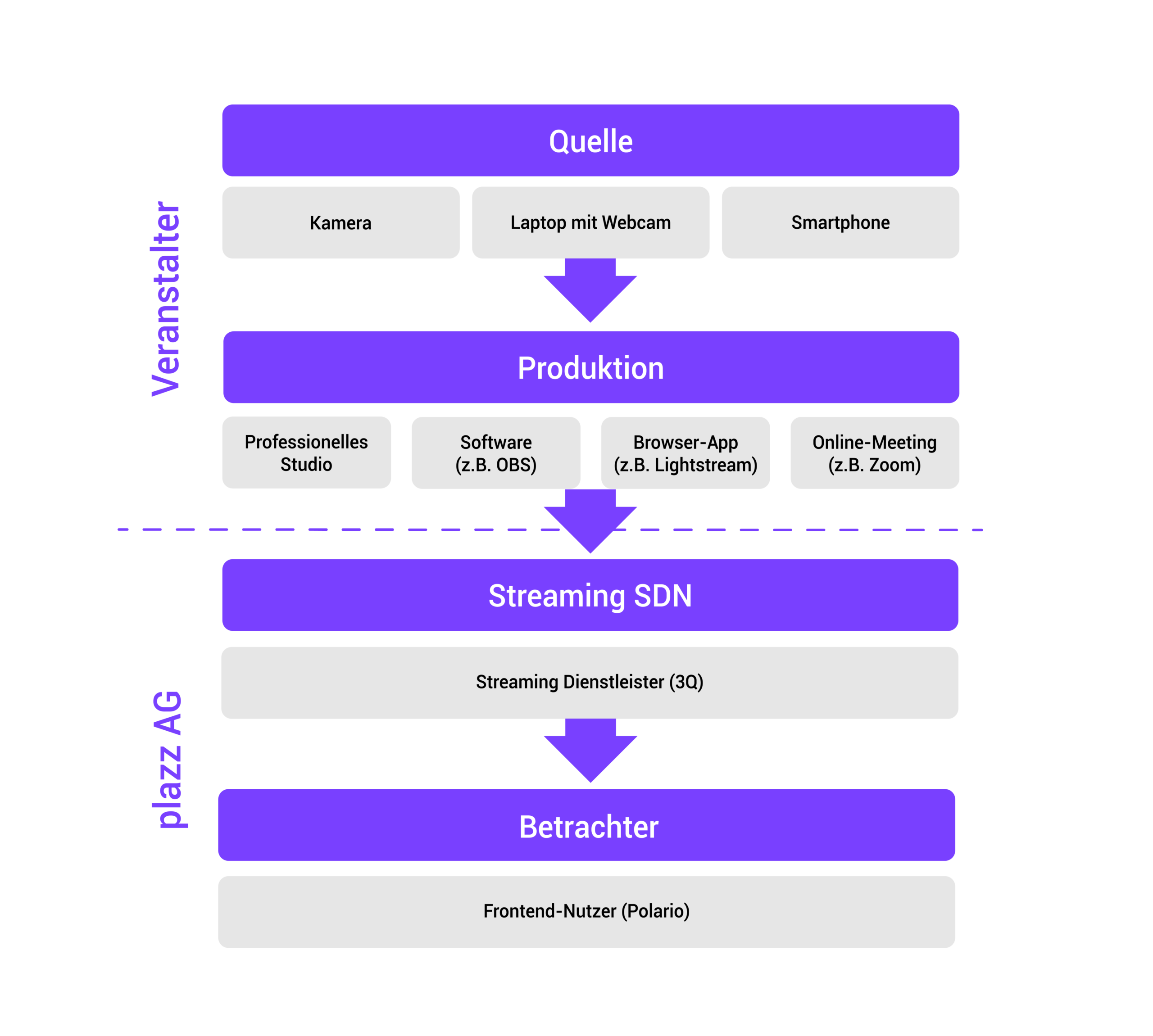 You might also be interested in
Follow us on social media to stay informed.
Do you have any questions or suggestions? Feel free to contact us!
More Info

About plazz AG
About Mobile Event App
Contact Details