Via
App for clubs
to the new club communication
With your own app for your club, you strengthen the exchange of your members and simplify team organization.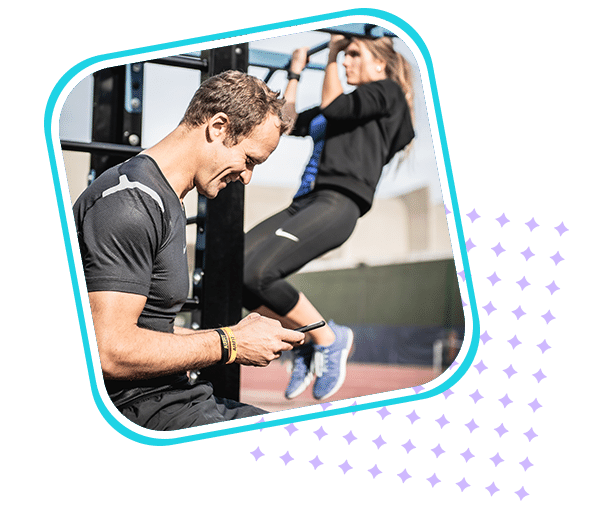 With an club app, you enable your club members to quickly and easily share informationwith you and with each other. You can make your club app available to your members as a native app on iOS and Android devices, as well as a web app. This means that app content can be accessed easily and quickly from anywhere and at any time.
Polario offers you a variety of interaction options, which help you, for example, to simplify your team organization. You can easily push out important changes to an upcoming event or information to your members via push notifications. This has the advantage, they reach all your members at once.
The advantages of an app for clubs
Implementation & Characteristics
Polario was developed as a no-code platform, which is why it is possible for any person to easily create and customize content. Using drag and drop, you can quickly and easily place the content according to your needs. Your club app can also be easily customized to match your corporate design.
With the group feature of Polario you can easily map the group structure in your club. This allows you to decide which content and information is only relevant for a specific user group or for club members.
Polario is a SaaS solutions, which means that updating and maintenance as well as continuous development of the platform is done from our side. This means that you benefit from always having an up-to-date version at your disposal and no further costs are incurred.
Possibilities of interaction in your club app
Use the social feed feature and the chat feature in your club app to easily promote the exchange of your club members among each other.
With Social Feed, you can present topics in a bundled and centralized way. Thus, all relevant information can be found in one place. By writing their own posts and commenting and liking other posts, your members can interact with the other members.
The chat feature, on the other hand, allows your users to engage in a direct exchange with each other. This can be a 1-to-1 chat or a 1-to-many chat. Your members can make appointments with each other or simply exchange information about topics directly.
Important dates such as club meetings, events or even the game schedule can all be displayed in one calendar. So your club members have all important dates at a glance.
Have we piqued your interest?
Stay up-to-date with our newsletter!
Application areas of a club app
You might also be interested in
Follow us on social media to stay informed.
Do you have any questions or suggestions? Contact us!
More Info

About plazz AG
About Mobile Event App
Contact Details