The all-in-one platform for your
Live Events
Enhance your live events with digital content to better inform, communicate and interact at your events.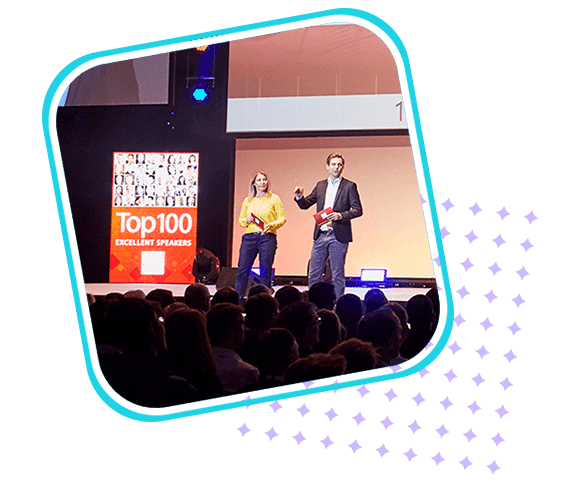 Digital accompaniment
of your live events
Upgrade and enhance your face-to-face events by digitizing them via an event app. This way, you not only promote the overview of the participants, but also ensure that the organizer has full control over the shared information.
Save on printing brochures and flyers, as well as other print media, by sharing all the important information about your live event quickly and easilyvia the app, such as notifications. This not only eliminates much of the printing, but also the associated costs and distribution. Another outstanding feature is that documents can be quickly edited and updated in case of last-minute changes.
The event app can be thought of as a digital accompaniment, or companion app, to your event. In addition to the impressions and experiences that someone gathers on site, they also receive useful information, can exchange information with other people or participate interactively in the event. This way, participants get an optimal overview, more information and improved communication.
All this is done via an app that works on all conventional iOS and Android devices and also has a web app.
The advantages of live events with Polario
Implementation & Characteristics
The integration of Polario into a presence event is uncomplicated and flexible. If you only want to use the app as an add-on to the event, the integration is significantly easier. However, depending on your wishes, you can also decide to integrate features of our platform with your event to create a unique and unforgettable experience for your audience.
In the implementation, you could, for example, include polls and live voting during a presentation. Afterwards, the moderator presents the results in a graphical overview. The presentation is followed by a lunch break. To inform about it, send a push notification to everyone. In the message, it's best to include a link to the digital floor plan, which you can also upload within the app.
Another significant feature of live events via an app platform, is the possible switch to a virtual or hybrid model. This not only gives you more flexibility in the organization, but also allows a much larger audience to participate in your event at the same time.
Live events in virtual & hybrid model
Polario's virtual features make it easy to transform on-site events into hybrid events. Thus, you significantly increase your reach via virtual participation.
You determine the degree of integration yourself. In implementation, this can mean, for example, that lectures are broadcast simultaneously online and a recording is made available afterwards. But also meetings or workshops could be carried out effectively by connecting online participants.
Another advantage of hybrid and virtual events are digital communities. In summary, these are the people at your event who remain in contact via the app platform even after the event. This is particularly well suited for follow-up events or surveys.
Learn more about virtual and hybrid events in our use case articles!
Have we piqued your interest?
Stay up-to-date with our newsletter!
You might also be interested in
Follow us on social media to stay informed.
Do you have any questions or suggestions? Feel free to contact us!
More Info

About plazz AG
About Mobile Event App
Contact Details