Your
Enterprise App
= optimal communication
Inform your employees, keep your partners up to date or open new communication channels for your customers, with a suitable app for your company!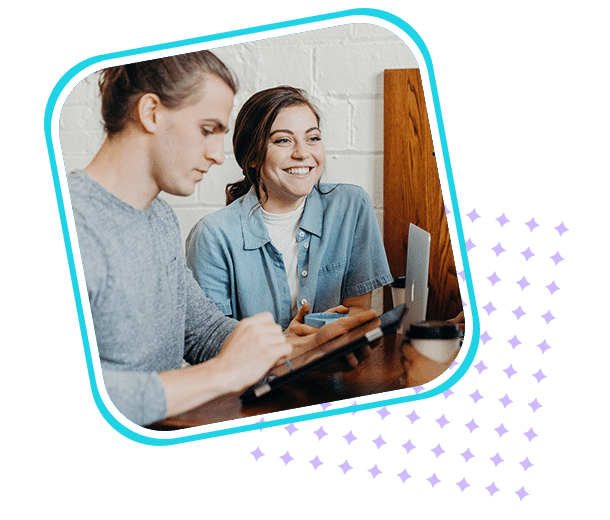 The Voice Of Your Company
Establish an app in your company to easily and quickly push out information. This can be done in the form of top-down communication, for example, to send news to the employees or customers and partners. But the all-important bottom-up communication is also effectively realized via an app. For example, you can use it to obtain important feedback from customers about your products or to coordinate effectively with partners and external persons.
Exploit the enormous potential of a company app and reach every person directly, regardless of location. Since our SaaS solution offers you an iOS, Android and web app, anyone can easily access the platform. Bundle your communication in one place and achieve outstanding reach and response with a tailored approach to your most important target groups.
Advantages Of A Company App
Implementation & Characteristics
The implementation of a company app can be done in different ways. For example, you can run different projects, such as an employee app, partner app and customer app separately. Thus, there is a clear separation of the instances. However, through our platform and group dynamics, it is also possible to offer an app in which all content is bundled centrally. The difference here is that certain information is only visible to the relevant groups of people.
Our no code and low code format makes it possible for anyone to create and customize content quickly and effortlessly. For this, e.g. no programming knowledge is necessary. In the event of special developments, via our API interfaces, but still possible at any time, should this be necessary.
The update and maintenance, as well as a continuous development of the platform is done as a SaaS solution from our side. Once your project is started and your app is created, the invitation of people can be easily begin via the invitation function of our platform.
Data Protection & Data Security
If you encourage the employees, external persons, partners or even customers to use your company app, the topic of data protection and data security naturally plays a significant role.
We place a special emphasis on the protection and security of personal data. For example, development at plazz AG is carried out according to the OWASP Top 10 principle. We also ensure that the requirements of the DSGVO are permanently fulfilled.
For more information, please visit our compliance page.
If you have specific questions, you can also contact our data protection officer at any time.
Have we piqued your interest?
Stay up-to-date with our newsletter!
You might also be interested in
Follow us on social media to stay informed.
Do you have any questions or suggestions? Feel free to contact us!
More Info

About plazz AG
About Mobile Event App
Contact Details