Your
Company app:

Higher employee satisfaction & stronger customer loyalty
Improve your internal communication and customer engagement effortlessly with Polario's company app. Discover your company's potential and build lasting relationships with your customers & employees. Let's write your success story together!

Your company app for smooth internal communication and collaboration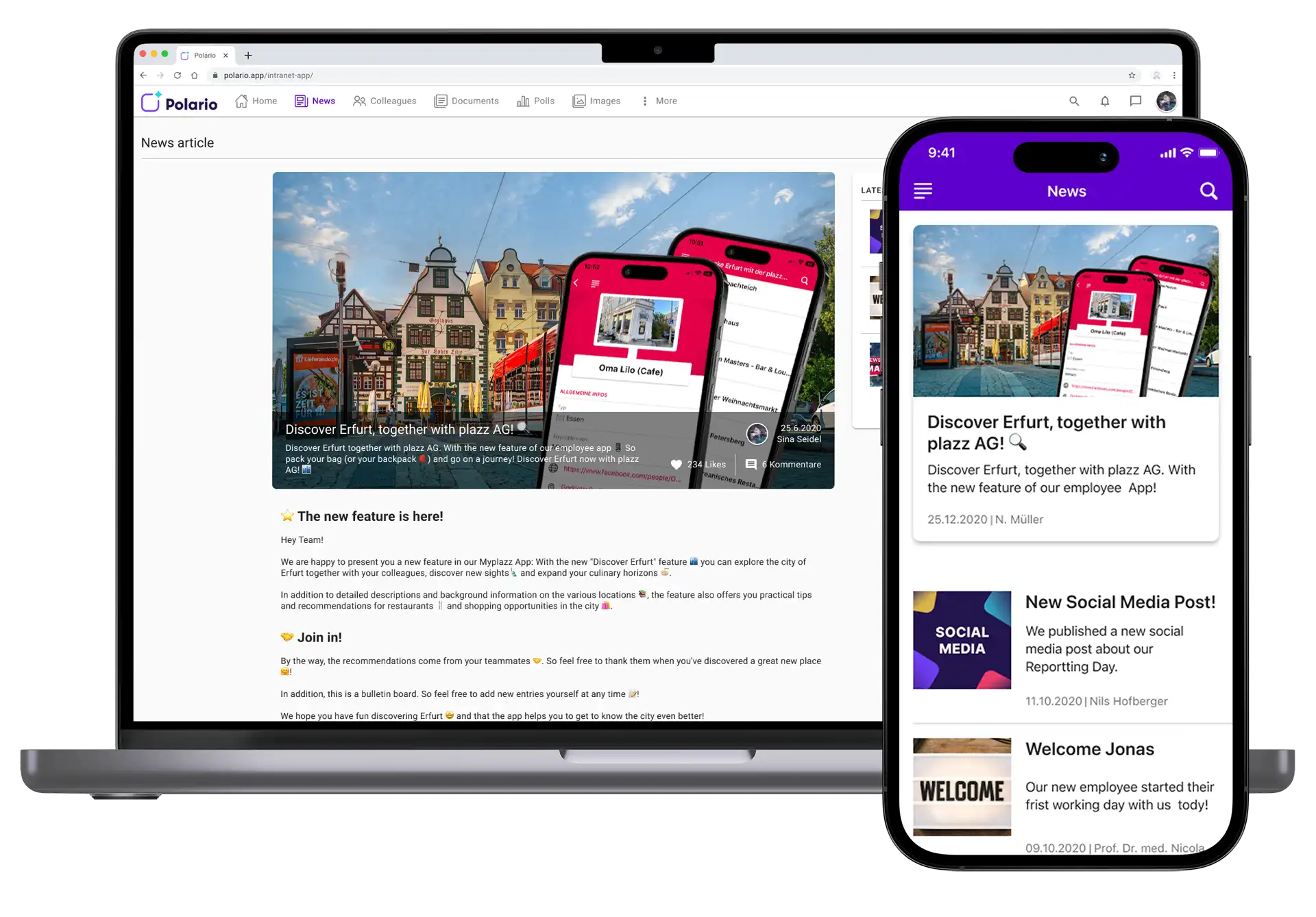 The simple and effective way to keep your employees up to date
From product updates to company news, our News feature is a great way to quickly and easily share important information with your employees. In addition, your employees can like and comment on articles, creating a space for feedback and collaboration. This is how you find solutions together and improve processes. It's a fantastic features to bring your workforce together and stay up to date.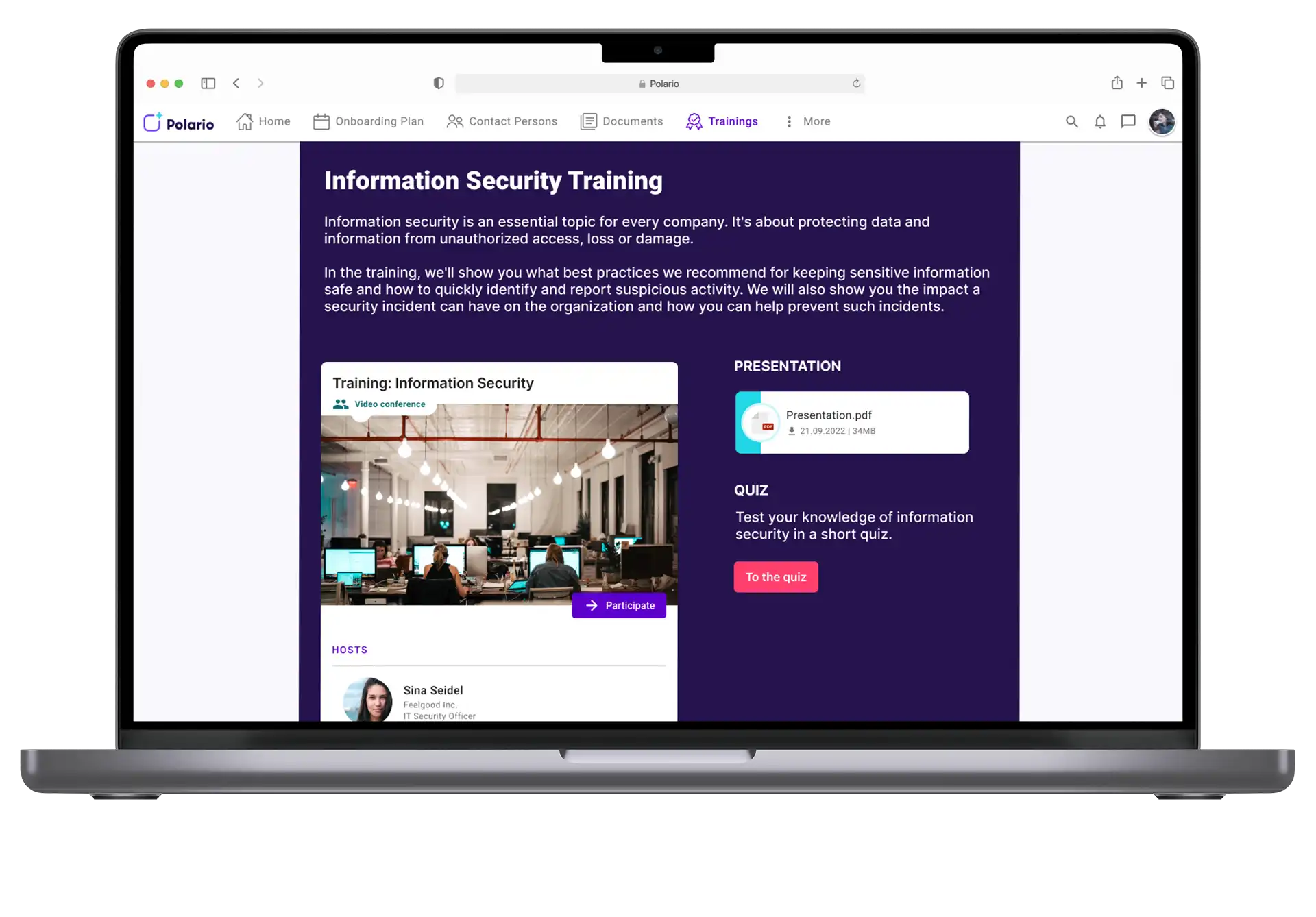 Present information and knowledge to your employees with ease
Provide important information, such as company profiles, product descriptions, team introductions or company policies, in a clear and appealing design in your company app with the Page feature. Furthermore, a central source of information is created for your employees to learn everything important about your company.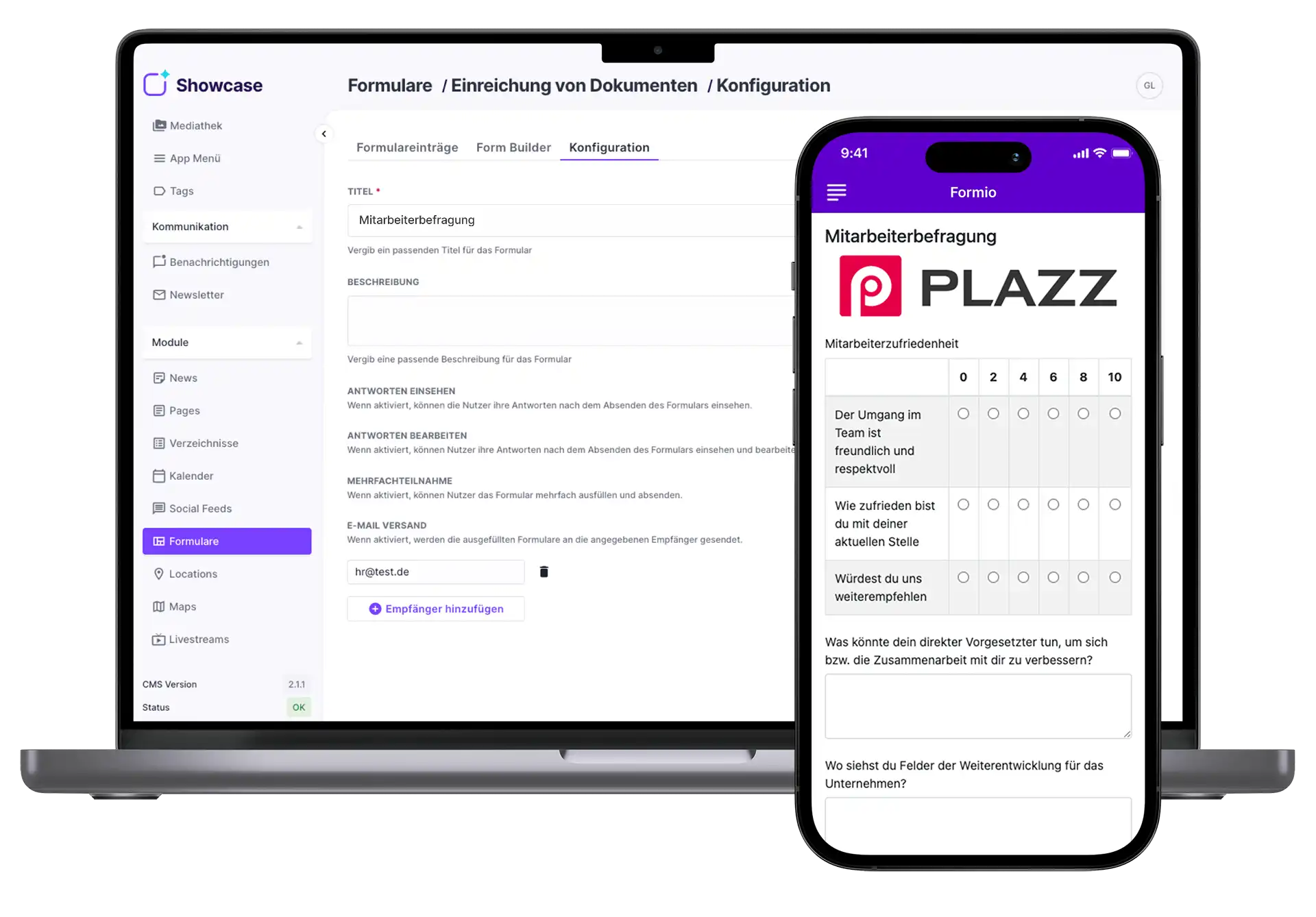 Improving the feedback culture in your company is easier than ever before.
With Polario's versatile forms feature, you will never again miss valuable feedback from your employees. This tool allows you to implement simple feedback surveys, employee surveys, and complex forms like sick leave or whistleblower systems in your enterprise app. Use this flexible solution to leverage the invaluable knowledge of your employees and increase their engagement.
Our user-friendly forms make it easy to gather relevant information and receive constructive feedback. Increase transparency, improve communication and promote an open corporate culture with Polario's forms feature.
Advantages Of A Company App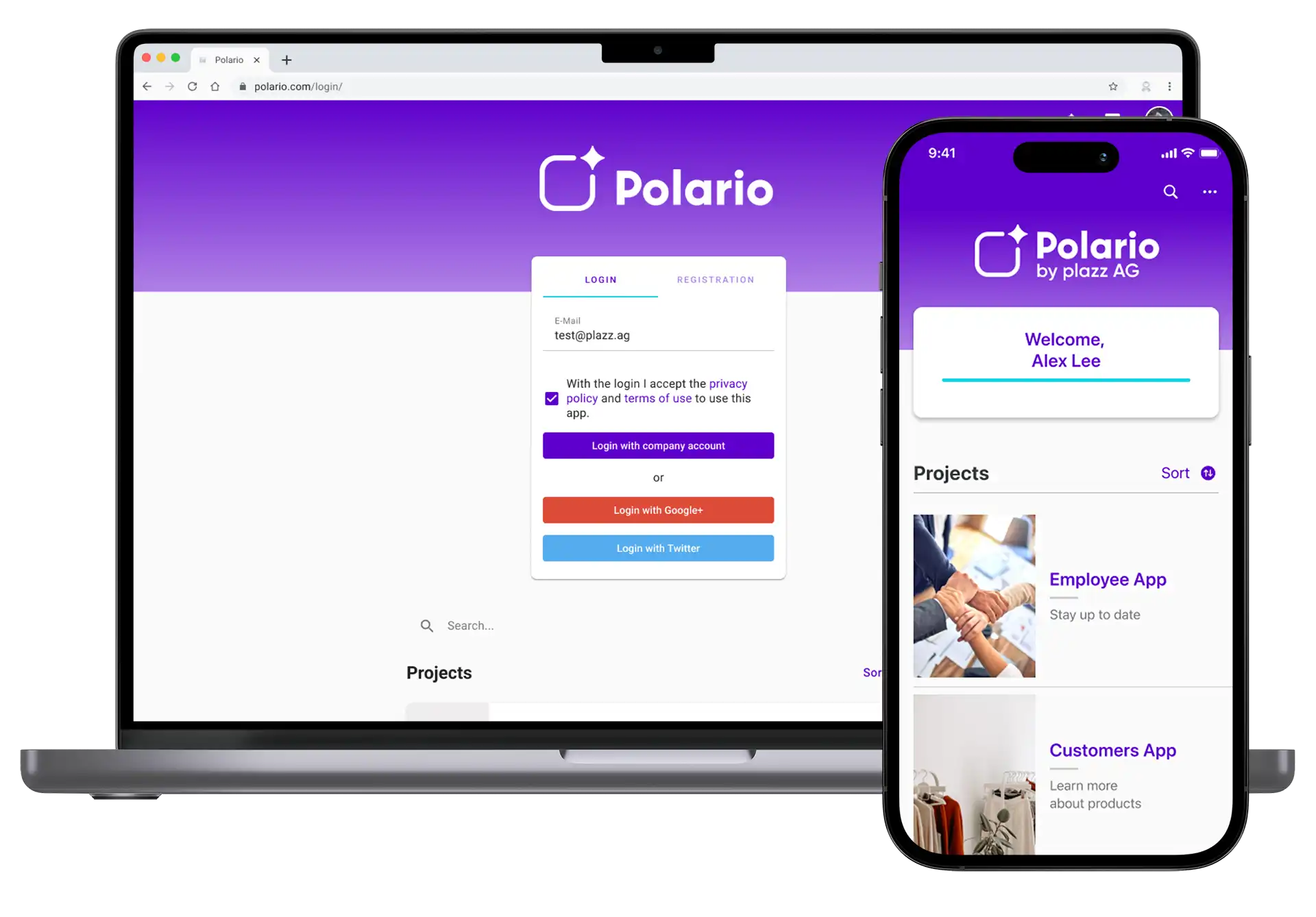 Connect faster & easier with your employees or customers
With a company app, you can easily reach your employees or customers – regardless of whether they use your company app as a native app for iOS and Android or access it via any common browser on the web. By making it available on different channels, you ensure that your employees or customers can use the app on the channels they like most. At the same time, the design remains the same on every device, creating a consistent user experience.
Individuality, simplicity & seamless integration - experience it all in your Polario company app.
Maximum flexibility: One CMS, multiple apps
Polario offers you the possibility to create customized projects for customers, employees and partners in your company app. What makes it special is that you can create and maintain content centrally via a single content management system. This not only gives you the flexibility to play out information on a project-by-project basis, but also across projects.
Easy content creation & placement
With our no-code content management system, you effortlessly create content and place it where you want it. And all this without any programming knowledge. Easily move and adjust elements using simple drag-and-drop functions. Turn your information into engaging content and present it to your audience with ease in your enterprise app.
Integration of other systems
Seamless integration of third-party systems in your company app opens up a wide range of possibilities. With the help of API interfaces, you can easily connect your company app with other systems. For example, link your employee or customer data thank to automatically have each person in the app. In addition, you can integrate special functions and tools that are tailored exactly to the requirements of your company. Use this flexibility to create a customized app experience.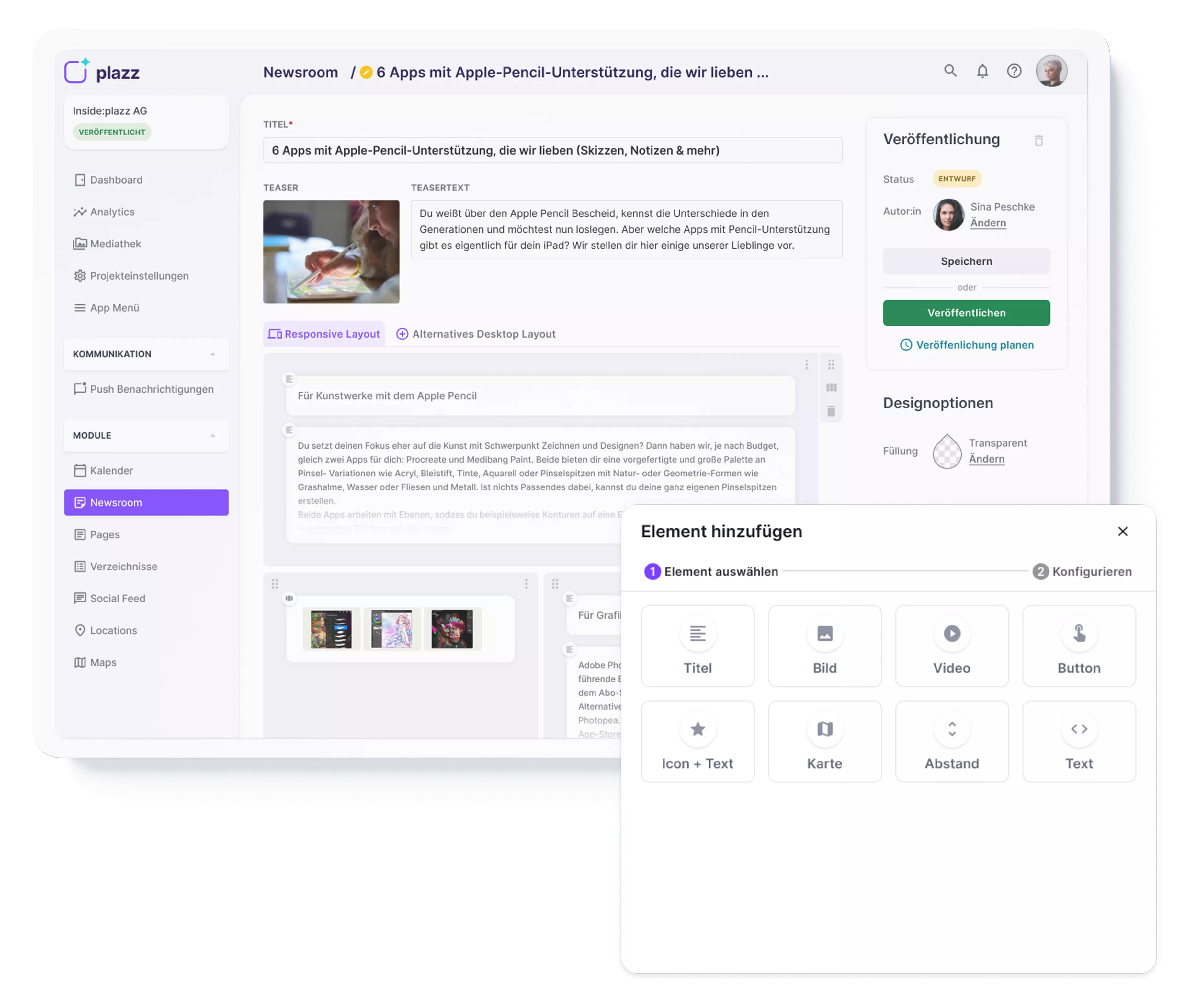 Make your customer communication modern and uncomplicated with your own company app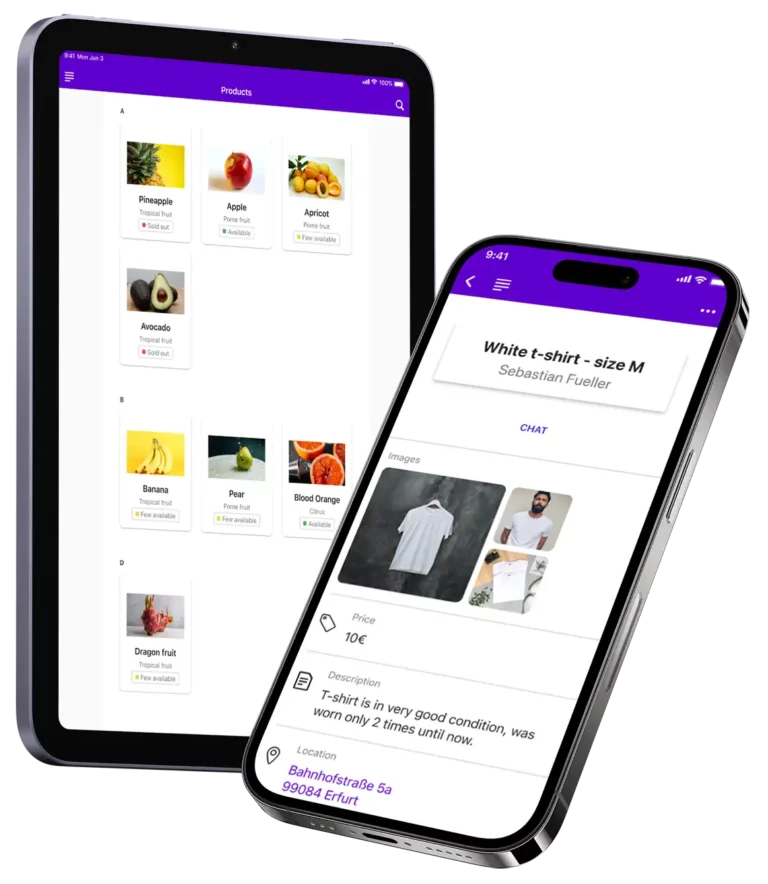 Interactive and versatile: directories for products, discounts and customer:inside advertisements
A company app via Polario offers many possibilities to inspire your customers. A directory in your app is a great way to offer your customers more than just products or services. You can present your offers, highlight discounts and even create a bulletin board where your customers can post their own ads. Through this interactive platform, you increase the engagement of your customers and keep your brand more memorable.
The easy way to always communicate with your customers
Use our social feed feature as an ideal solution to offer your customers a platform for exchange and communication with your company and other customers. With various channels on different topics, you promote exchange and offer your customers added value. Through valuable insights and feedback from your customers, you can further improve your products, services, and support to meet their needs.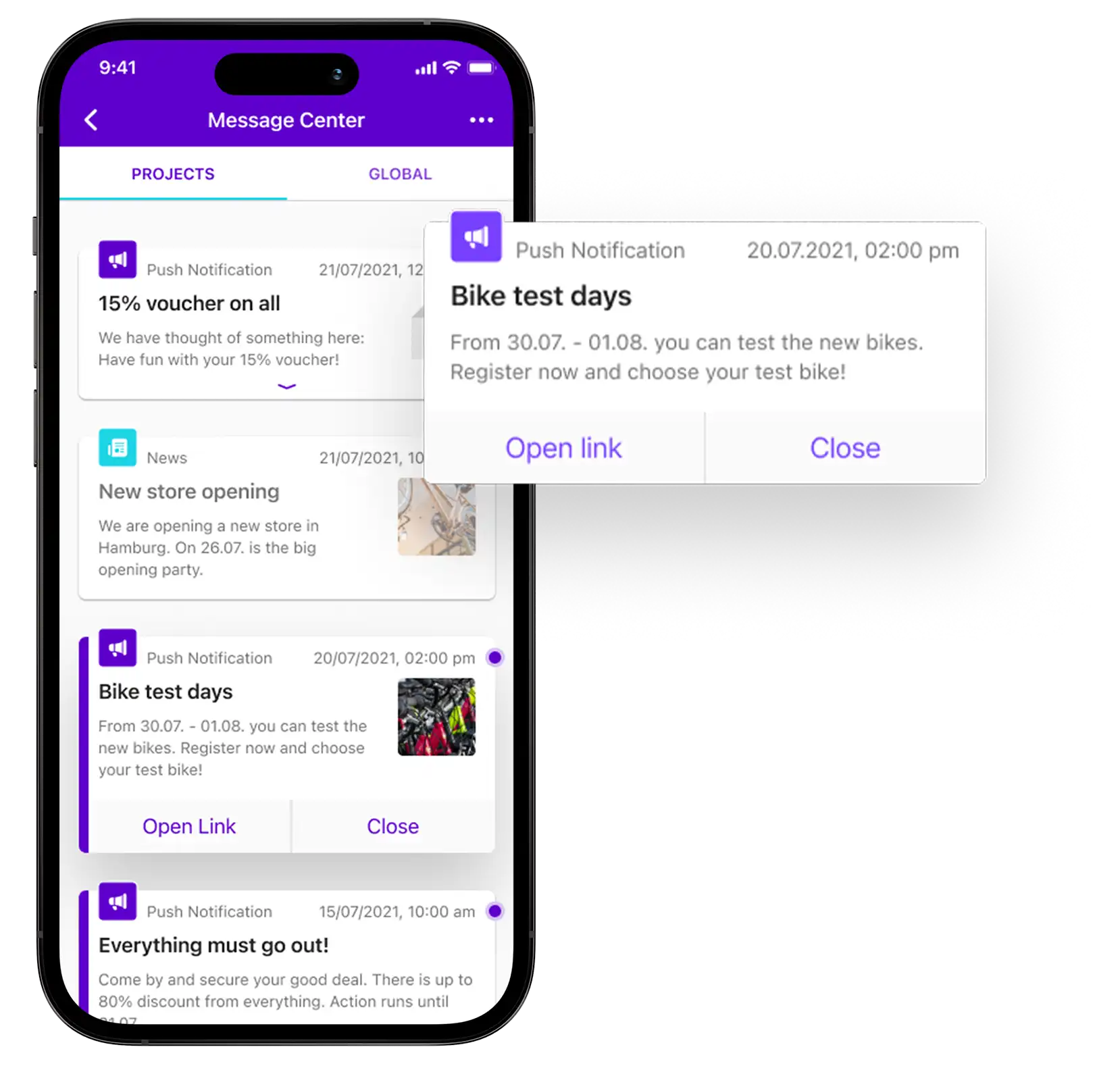 Missing out on discounts or news has an end
Send your customers regular news and push messages to inform them quickly and easily about news on products, services or the company. Likewise, these features can be used to announce discount promotions and special offers. Keep your customers up to date and strengthen your brand awareness and customer loyalty.
Have we piqued your interest?
Stay up-to-date with our newsletter!
A company app is a mobile application that specifically addresses the needs of your business. It is a kind of internal and external communication platform that is tailored to your needs and offers a variety of functions, such as:
Internal exchange of information between employees
Access to corporate data and resources
Customer communication and support
Personnel management and time recording
Marketing & Advertising
A company app can thus be used both for internal purposes, e.g., to improve teamwork or access internal information, and for external persons, e.g., as a marketing tool or to improve customer service.
For whom is a company app suitable?
A company app is suitable for a wide range of businesses or organizations, regardless of your size or industry. In general, it can be said that it is suitable for companies that:
Have a mobile strategy and want to be able to offer services tailored to mobile devices
Improve their communication and collaboration by providing their employees with quick and easy access to critical information and tools.
Want to strengthen their customer loyalty by offering a convenient way to interact with the company and respond to inquiries and orders
want to improve their marketing by creating an additional platform for marketing activities such as push notifications or personalized offers.
A company app can be used in almost any industry, from retail and hospitality to financial services and healthcare.
How secure is Polario's company app?
The protection of personal data is our highest priority. We encrypt all connections via SSL and take measures that ensure a permanent level of protection in accordance with the standards of the GDPR. Our security standards include a SAML login, a CMS with two-factor authentication and other measures.
Learn more about our compliance at Polario!
How much does a company app cost?
A company app can have different costs depending on its scope and functions. With us, you can start with your company app for as little as 590 euros per month. Contact our sales team for a personal consultation and learn more about our pricing models. We are also happy to provide you with a demo version so that you can test our company app without obligation. Invest in modern and efficient communication with your own company app!
You might also be interested in
Follow us on social media to stay informed.
Do you have any questions or suggestions? Feel free to contact us!
More Info

About plazz AG
About Mobile Event App
Contact Details