It is with great pleasure that we present you the latest update 3.2 of Polario. We've worked hard to bring you innovative features and optimizations that make your experience with our platform even better. Dive into the highlights of this update with us and discover what Polario has in store for you now!
Webview in Seiten und News
We are happy to announce that you can now embed webviews directly into your pages or news! Whether by code or simply via a URL, the decision is yours. You have the possibility to adjust the aspect ratio of the embedded content according to your needs, be it 16:9 or 4:3. This is especially handy if you want to integrate interactive elements like voting, powerpoints and more. Imagine being able to display surveys via tools like Slido, videos from platforms like YouTube or Vimeo, or even your company homepage directly in your app!
Directory widget as slider
The directory widget has received an upgrade! In addition to the classic tile design, you can now present your directories as a modern slider. For people directories, you even have the additional option to sort by "Last Active". The slider is available in two card sizes, and you can choose which profile fields and how many profiles are displayed in the slider. A real upgrade for your pages and news!
Personal greeting
Make your pages even more personal with our new welcome widget! This widget allows an individual address on your pages or news. You can customize the text via localization and there is an alternative text for users who are not logged in. You even have the option to customize the font, alignment and colors to your liking. Ideal to make your project start page even more inviting!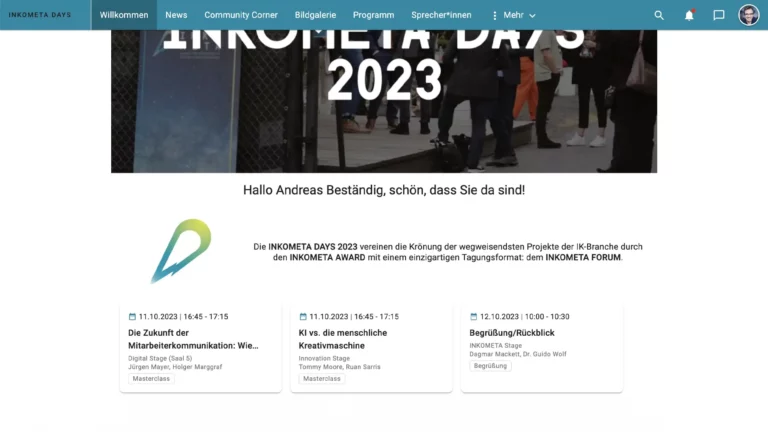 likes for news
Your news articles will now be even more interactive! Given likes for your articles will be visible both in the widget and in the news list. The best part? You do not have to configure anything! Just activate the "Social Interactions", like an article and you will see the likes in real time.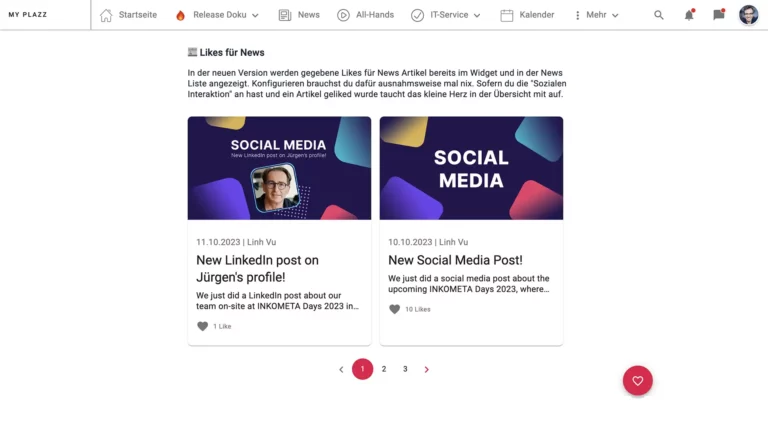 Link records in directories
Link your directory entries together and offer your users an even more comprehensive experience. For example, you can directly store the associated personnel in the exhibitor entry or the products in the case of companies and the location managers in the case of locations. A great way to link your content together!
Color is not updated correctly when setting up tags
Settings for "Download options" for MediaDocument in data fields of the directory entry cannot be updated
Notification // Can't save activated "Read receipt" setting
Calendar // Date for event is not saved after saving (Safari)
Removing the "Text size" section for the "Text" element when creating pages/message content
User cannot create a new location from the calendar details.
The teaser image is not visible in the list of social feeds even if the feed contains the teaser image
Speakers are not sorted in calendar entries
New tab of the calendar // smaller size of the screen should be fixed.
In the project menu 'Imprint' and 'Support' cannot be changed
Calendar speakers are displayed in the wrong order
Calendar tags are displayed in wrong order
Directory tags are displayed in wrong order
Directory // Centered text is not correctly ellipsed
Keywords // Allows hiding keywords in the widget.
Web widget content scrolling fixed
Slider // Manual swiping does not reset animation
Chat message is hidden under the keyboard
Social Feed // Social interaction is enabled, but the user cannot see the chat and social feed.
Allow notifications" button should enable all settings below it
Admin area button increase
The icon of the address data field is not displayed if the "Show map" button is activated
The app crashes when navigating from the directory edit view back to the list of directory entries in the directory tab
ktlint fixed
App Menu // Admin Button Customization
Compose // Upgrade to BOM 2023.08.00
Simplification of use case calls by adding an operator modifier - whole tree.
News list view is not updated automatically
Calendar // Show location and speaker as primary and secondary fields
Highlight News without image placeholder
Adjust the height of the status bar on the cell phone
Correction of the aspect ratio in the iframe
Fix for the correct alignment of the menu separator
Fix for correct display of news when filtering status in admin area
Fix to show correct text color for author and date in news header
Fix for the display of the link in the notification
Fix for displaying wrong content on pages/news with mobile content only.
Hide header image if mediaImage element is undefined
Adjust the image size of the vertical directory map
Resolve Sentry performance issues
Customization for custom tiles on pages/messages
Hide sorting of the last entries in the filter sidebar
Hide directory entries without title